Earning with website is much better way to earn online than any other method because website provides you unlimited way to earn. You can earn from PPC,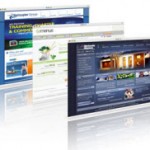 Affiliate Marketing, Direct Ad Sale and many other ways you can earn with your website.
Before talking about the different ways of earning with your website you must know which type of website you need to start earning.
You have visited lot of website from Google, Digg, Yahoo, Facebook, and much more so which type of site you need. Sites I mentioned are the big one and it is difficult to make, handle and promote this type of site.
Here come Blogs which are easily to setup, maintain and promote. If you don't know about blog then watch this video to learn about blogs.
To develop blog site you need to write regularly. Visitors expect new post in your blog. So you have to build writing habit.
If you don't interest in writing and blog then you need to search for your interesting topic which you can maintain and contribute.
Ways to earn with your website
Pay per Click – On Pay per click you earn when someone click on Ad appeared on your website. To place PPC ads on your site you need to signup PPC advertising program. You place ad code on your site and it starts delivering ads on site. Whenever visitors of your site click that ad you earn on per click base.
Earning of that ads depend on advertising cost it can be from $ 0.02 to $ 5.00 or more per click depending upon ad value.
Popular PPC ad types are Contextual advertising ads are served by automated systems based on the content of the page. For example if your site is about football then ads appeared on your site will be related to football which will drive visitor's attention and help you to earn.
Affiliate Marketing – With affiliate marketing you can make money by having links to merchant's website on your site. If someone goes through your links into the website of the merchant, and buys something, you earn commission from the sale. Some merchants also pay for each click or each lead. A lead is a when new visitor goes to merchant's website and completes registration or do any particular task that asked by merchant then you get paid for that action.
To earn with affiliate marketing you need to join affiliate networks. Affiliate networks are bridge between advertiser and website owner (affiliate or publisher). Affiliate networks take care of advertisers program and its sales or lead. Affiliate networks also tracks sale or lead made through website owners, there payment etc.
Direct Ad Sale – If your site is getting popular then you can sale you site ad place where advertiser will place banner or text link on your site and you will earn fixed amount for that advertisement. For example you want to invite advertiser to place ad on your site you offer them ad size of 468×60 px at the header of the website. You ask him fixed amount of $100 per month.
In this way you earn a fix amount you don't to care about leads or pay per click because you are getting fix amount.
Cost Per Impression (CPM)  – These type of advertisement is another good way of earning. By this way you are paid on ad impression bases. Each CPM means 1000 impression. Ex. Your site gets 5000 visitors per day and 12000 of page views (Ex if visitor have surfed 3 pages on your site this means 3 page views). You placed CPM ad on your site advertisement company will pay you on impression that ad received. In this case your site have received 12000 views and if advertiser pay $2 per CPM then you will earn 12000/ 1000 = 12 CPM you earned 12×2=24$ for that day.
To run this type of ads you need to join CPM advertising network. To join these network you site must get good page views.