If you have a website with some traffic, you can make money by having links to merchant's website on your site. If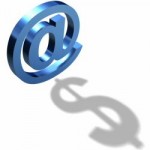 someone goes through your links into the website of the merchant, and buys something, you earn commission from the sale. Some merchants also pay for each click or each lead. A lead is a when new visitor goes to merchant's website and completes registration or do any particular task that asked by merchant then you get paid for that action.
People or companies having these links on their web-sites, are called affiliates, and the links are called affiliate links. The administrative infrastructure by the merchant that the affiliate registers into, in order to get the linking code, is called an affiliate program.
To register into an affiliate program is usually free, and through the program you get freely all you need to make the linking code, to monitor the traffic through your links, and to see what commission you have earned.
An affiliate program is not a MLM program, since the affiliates only earn from sales, leads or clicks. However, in many programs you can recruit other affiliates and earn some commission from the sales made by the recruited affiliates too.
There are also common networks operated by third-part companies where several merchants use a common software and administrative infrastructure to recruit affiliates and monitor the traffic from affiliates. These are called affiliate networks. Both the merchants and potential affiliates register into the network, and the affiliates can find links to the online shops of hundreds of merchants to use at their web-site. Examples of affiliate networks are Commission Junction and Clickbooth.
Try to add that program which matches your website or WebPages to get results from affiliate program. What will work best for you, will however depend upon the kind of traffic you have, and the interests of people visiting your site.
Or you can also earn with contextual advertising.
Description of some terms used above:
Publisher:
(Also referred to as an affiliate, associate, partner, reseller, content site, email marketer, or search marketer) An independent party that promotes the products or services of an advertiser in exchange for a commission on leads or sales. The publisher displays ads, text links, or product links on its Web site, in email campaigns, or in search listings and is paid a commission by the advertiser when a visitor takes a specific action, such as filling out a form or making a purchase.
Advertiser:
(Also called Merchant, Retailer, E-retailer, or Online Retailer) Any Web site that sells a product or service, accepts payments, and fulfills orders. An advertiser places ads and links to its products and services on other Web sites (publishers) and pays those publishers a commission for leads or sales that result from their sites.
Affiliate Marketing Program:
(Also called Affiliate Marketing, Advertising, Performance Marketing, Partner Marketing, CPA, or Associate Program) In an affiliate marketing program, a publisher receives a commission for generating a transaction, such as a lead or sale, for an advertiser that the publisher is promoting. The advertiser provides its ads to publishers and assigns a commission for each action it wants to accomplish. Publishers place the tracking code for these ads on their Web sites, in their email campaigns, or in search listings. Whenever a visitor uses these links to generate an action on the advertiser site, that transaction is tracked online. If a product or service is purchased, the customer pays the advertiser directly, and the publisher is paid a commission for that transaction.
In short:
With affiliate marketing you can earn commissions by referring customers that buy products or services, or by referring visitors that complete a certain action on the merchant's website, eg. signup for membership, complete a form/survey, download something, etc.
So, affiliate marketing is about users like YOU, sending referrals to merchant sites and then gaining commissions if those visitors complete a certain action.
Affiliate programs:
Affiliate programs are partnerships between merchants and Webmasters. Webster's Dictionary defines affiliate as "to take in as in a member or branch." This member or branch of the merchant company benefits by earning income through the sale of products or services, and the merchant benefits by having the extended reach of their products in the marketplace.
The affiliate programs operate by the "Law of Reciprocity," where people are paid for their performance, like the familiar "one good turn deserves another." The merchant pitches in their good turn by providing a product or service, accompanied by an infrastructure for tracking sales and issuing payments to the affiliates.
In turn, it is the responsibility of the affiliate to make a concerted effort to sell the product or service of the merchant. This cannot be accomplished merely by posting a banner or text link to a personal homepage.
In order for the affiliate program to become a "win-win" tool for both the merchant and affiliate, the affiliate must have a Web site with more than a jumble of affiliate links, and the Web site must generate some traffic.
Affiliate Network:
An affiliate network is composed of a group of merchants and a group of affiliates. Merchants join the network and affiliates join the network in order to advertise the merchant products in exchange of a commission from the merchant. Affiliate networks present some great advantages for the merchant and the affiliate. The merchant gets potential access to wide networks of affiliates. The affiliate dos not necessarily need to make a certain sale amount for one particular merchant but rather for the entire range of merchants before getting paid.
So How Can I Send Visitors To Merchants?
There are basically 3 ways you can start sending visitors to a merchant as an affiliate;
  • Website – the most popular and obvious method is to create your own website. Takes time to build a website and produce content to make it interesting for visitors, which is vital to generate referrals.
 
  • Newsletter – most programs allow you to place affiliate links in your newsletter to help generate traffic. This does NOT mean you can send unsolicited SPAM emails though!
  • Pay Per Click Search Engines – some programs will also allow you to place bids on Pay Per Click Search Engines (PPC) so you can drive referrals to their site.
Pay-Per-Click (PPC) Search Engines:
This is a traffic generating method where a search engine or directory places your link in their searchable database and charges you a fee every time your URL comes up in a search and it gets clicked on. The amount of the fee that you pay is usually determined by bidding on keywords or keyphrases.
The two largest PPC search engines are Overture and Google AdWords. There are also numerous smaller PPC engines on the net, some very good a delivering affordable targeted traffic, others not.